Place-Based and Project-Based STEAM Institute
Sun Jun 28, 5:00 PM - Thu Jul 2, 3:00 PM (EDT)
Belle Isle Conservancy, 3 Inselruhe Ave, Detroit, MIchigan, USA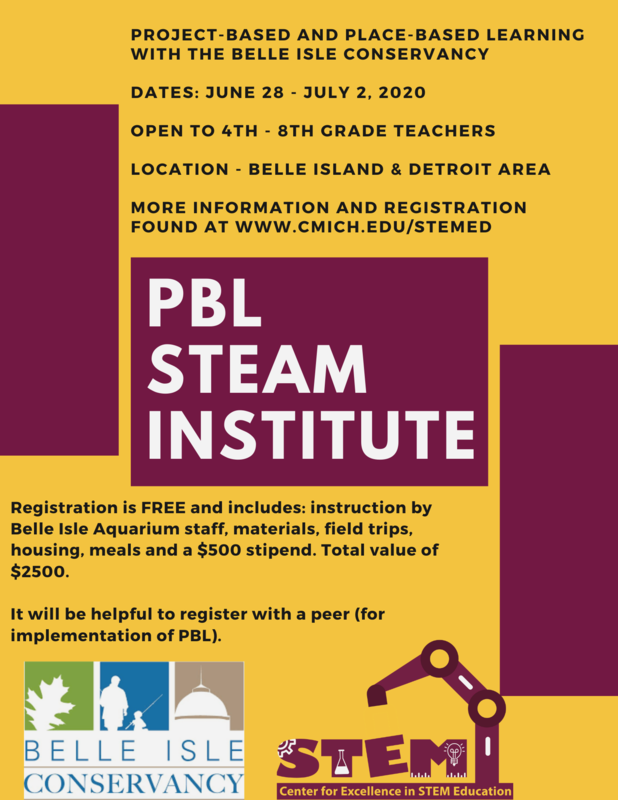 This professional learning workshop is open to 4th - 8th grade teachers. Registration is free and a $500 stipend is provided. The experience has a total value of $2500. It may be helpful (towards implementation of your learning) to register with a colleague.
This Institute is brought to you by the CMU Center for Excellence in STEM Education and the staff at the Belle Isle Conservancy. You will spend 4 full days (Monday - Thursday) learning about place-based education at the Belle Isle Aquarium, the Anna Scripps Whitcomb Conservancy, and the Dossin Great Lakes Museum in addition to some great outdoor spaces. This Institute will also assist you with the development of project-based learning resources and will include experiences with activities from Fast Plants and Project Wild.
All logistics are covered after your arrival in Detroit, including hotel accommodations, most meals and daily transport to workshop locations.
Belle Isle Conservancy, 3 Inselruhe Ave, Detroit, MIchigan, USA